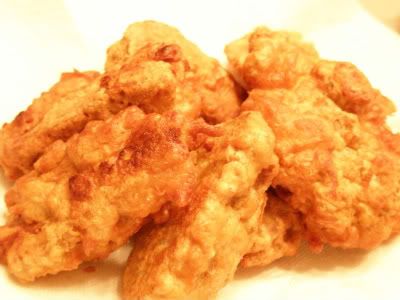 Photo from www.bokchoybohemia.com
Sometimes you just need something battered and fried! This Crispy Seitan hits the spot with a light crust made from whole-grain organic cereal flakes. It's a surprising and delicious way to add whole grains to your diet (and possibly offset the twinge of guilt for eating fried food). I made these delectable crispy nuggets during the Life Chef "What's Cooking? Whole Grains for Heart Health" Class on February 14 at
Sevananda Natural Foods Market
.
When foods are fried at the proper temperature and for the shortest amount of time possible, they actually absorb less fat than you may think. So splurge with this tasty treat every now and then. It's fast and delicious and will be a winner with the entire family. Don't have seitan? Use extra-firm tofu, drained and cut into 2" strips.
What is seitan? It's wheat gluten. It may sound kind of scary if you're new to meat-alternatives, but it's used a lot in making "faux meats" like vegan pepper "stake" and vegan "chick'n" patties. Seitan is very mild in taste and has a meaty texture, even more so than mushrooms. Learn more
here
.
Crispy Fried Seitan
8oz "chicken style" seitan, drained
2 cups organic multigrain cereal (crushed or run through a food processor)
1 teaspoon each (or to taste)
ground garlic powder
smoked paprika
salt
ground black pepper
ground turmeric
ground cayenne pepper
ground cumin
ground coriander
vegetable oil for frying
Heat vegetable oil to 375 degrees in a fryer, pot or deep skillet.
Add spices and pulverized cereal crumbs into a plastic bag and shake to combine.
Place drained seitan into a bowl and sprinkle enough of the seasoned crumb mixture over the seitan pieces to coat thoroughly.
Fry seitan in the heated oil until crisp and golden brown.
Serve with this Dipping Sauce:
3 Tbsp ketsup
1 Tbsp Dijon mustard
1 Tbsp Sriracha (or other spicy sauce)
2 Tbsp honey